Lumineers - Cosmetic Bonding - Shrewsbury Family Dentistry
At Shrewsbury Family Dentistry, now you can get the smile you've always wanted and nature may not have blessed you with. Today, thousands of patients around Shrewsbury who want to look and feel better about themselves are choosing Shrewsbury Family Dentistry to correct their smiles with LUMINEERS® by CERINATE. Visit Shrewsbury Family Dentistry for a consultation to learn if Lumineers® are right for you.
Fix uneven spacing
Lengthen short teeth
Reshape awkward teeth
Come in and see your smile the way you have dreamed it could be!!
Madison's Lumineer® Case: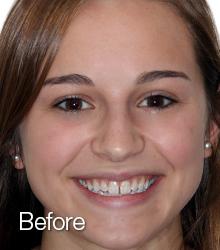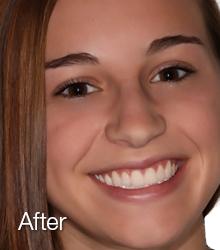 LUMINEERS 
Lumineers are very thinly shaped porcelain that is bonded to your tooth. The fact that they are very thin allows us to minimize the preparation of the tooth to create beautiful transformations of your teeth 

Due to the fact that there is minimal preparation, there is often little to no discomfort in this procedure. The procedure often requires 1-2 visits. 

Give us a call today to see if Lumineers® will work for your smile!